About Virtopsy
Contact Virtopsy
You may contact the Virtopsy office through E-mail – virtopsy@irm.uzh.ch.
What is Virtopsy
Virtopsy began at the turn of the millennium as multi-disciplinary applied research project to implement imaging modalities from diagnostic radiology and surveying technology in forensic sciences [link]. Since then, the Virtopsy approach has become an emerging if not standard procedure in forensic investigations world wide. The term Virtopsy has been used in a variety of settings all over the world (check Pubmed). Today, computed tomography, magnetic resonance imaging, optical 3D surface scanning, and 3D photogrammetry are routinely used to detect and document forensic evidence in a minimally-invasive and observer-independent manner in both the living and the deceased.
Quality management: ISO 9001:2008 certification
The Departement of Forensic Imaging and Medicine of the Institute of Forensic Medicine of the University of Zurich has obtained quality management certification to ISO 9001:2008 for all three domains clinical, post mortem and radiological examination, including reporting and written expert opinions.
How can I learn how to use concepts related to Virtopsy?
Virtopsy in forensic death investigations
Virtopsy can enhance traditional autopsy or even replace it in selected cases. One of the main benefits of imaging lies in the observer-independent documentation of forensically relevant findings. In addition, digital imaging data can be stored permanently and may be re-examined at any time if a second opinion is required.
Virtopsy in cases of living patients
In living patients, Virtopsy permits the documentation of patterned injuries such as bite marks, bruises, lacerations, and abrasions. Documentation is made in three dimensions, true to scale, and enables comparison of injuries to potential injury causing instruments.
Virtopsy in court
Virtopsy provides excellent tools for crime and accident reconstruction, including 3D depictions of internal injuries, 3D true color representations of surface injuries and even 3D scaled models of entire crime scenes and events. The Virtopsy approach reproduces critical forensic evidence in an unbiased and comprehensible fashion, suitable for presentation as evidence to laypersons and legal professionals.
Equipment
Virtobot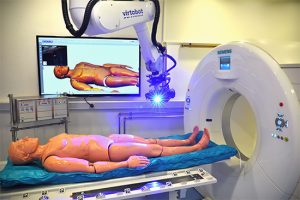 The Virtobot system is a robotic system that performs a variety of tasks in conjunction with the CT scanner which was developed by the virtopsy team in collaboration with the Austrian Center for Medical Innovation and Technology (www.acmit.at). It allows for automated, high resolution 3D surface documentation as well as CT guided post-mortem tissue sampling. Its modular design makes it easy to extend the system by adding more functionality in the future.
CT (Computed Tomography)
We are using a Siemens Dual Source SOMATOM® Definition Flash 2×128-slice scanner with a maximum scan speed of about 46 cm per second. Its Dual-Energy mode allows for a refined postmortem CT-Angiography (pmCTA), new post-processing techniques like artifact reduction and detection of material-specific differences. For visualization, a range of image reconstructions including MPR and 3D techniques are available on a variety of platforms.
MRI (Magnetic Resonance Imaging)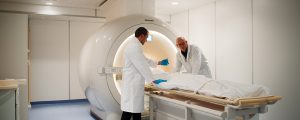 We use a 3 Tesla MRI scanner (Philips Achieva 3.0T). It covers both routine such as head or whole body imaging, and more sophisticated exams like MR-spectroscopy and diffusion tensor imaging (DTI).
Awards
The Virtopsy Team has been awarded the Swiss ICT Special Award 2015.